The Chinese retail market is a great opportunity for foreign businesses to grow their brand and sales. It makes up more than 20% of the world's retail trade, with the top 10 e-commerce players in China accounting for $245 billion in total transaction volume in 2012.
Clearly, this is a market you don't want to ignore.
But where to begin?
A good place to start is by understanding the platforms you'll use to sell your products. To give you a head start, we've put together a handy list of the top 5 online Chinese marketplaces you need to consider when selling your products in China.
Top 5 Chinese marketplaces for foreign brands
Taobao: The Chinese eBay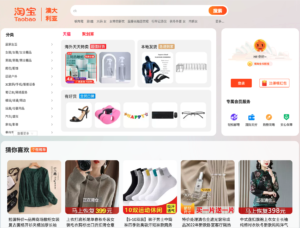 Taobao is the most popular marketplace in China, boasting over 800 million users and offering a wide range of products from clothing to electronics. It was started in 2003 by online giant Alibaba.
It's considered a consumer-to-consumer marketplace, but it's also popular with small businesses and individual entrepreneurs.
For the most part, selling on Taobao is limited to Chinese citizens and companies, so if you want to sell there as a foreign brand, you'll have to create a joint venture with a Chinese company.
For many brands, this won't be possible. Luckily, there are plenty of other options, which we'll go into below.
Tmall: The Chinese Amazon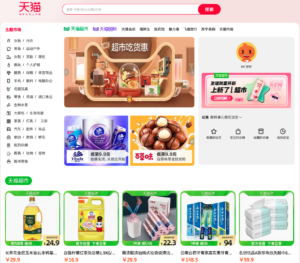 Tmall is a Taobao spin-off from parent company Alibaba, launched in 2008. It was originally named Taobao Mall, and was created as a way for brands to sell directly to consumers. Because of this, you'll find a bigger focus on branded products and fewer issues with counterfeit products compared to Taobao.
Its popularity took off and it's now the leading B2C platform, accounting for nearly 65% of B2C transactions.
The Tmall Global program also makes it the number one marketplace for foreign brands to sell directly to Chinese customers vis-à-vis China's cross-border ecommerce scheme.
That means if you're a foreign company looking to enter the Chinese market, Tmall Global is the first place you should look.
For more information on cross-border ecommerce in China and getting started on Tmall, check out our Ultimate Guide to Cross-Border Ecommerce in China.
JD.com: The Chinese Walmart.com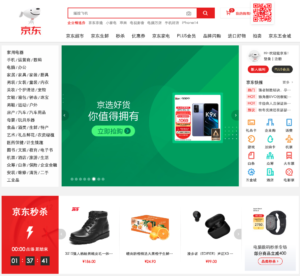 JD.com is another major ecommerce platform that offers a wide range of products including electronics, home appliances and grocery items.
It's been around for a while, launching way back in 1998. It's been having quite the resurgence, with massive growth in the past several years.
This is due in part to its focus on logistics, using AI-powered robots and drones to deliver its products, and its commitment to providing only quality authentic products. In other words, an obsessive focus on meeting the demands of an ever-discerning consumer base.
Like Tmall, JD allows foreign brands to sell directly to Chinese consumers through its JD Worldwide program. This should definitely be in your consideration set, especially if you sell appliances, electronics, homewares, clothing or foodstuffs.
Pindoudou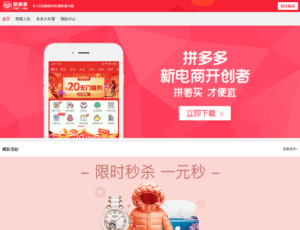 Pindoudou is a relative newcomer to the ecommerce space, but it has made a huge splash since its launch in 2015. It started off as an online agricultural retailer, but has since expanded into a full-fledged ecommerce platform that offers everything from food to clothes and home goods to electronics.
Pindoudou's competitive advantage is its focus on providing products at an affordable price point. It gamifies the shopping experience, offering bargain deals and allowing groups to pool together to purchase bulk goods at a discount.
It gained popularity in smaller cities, but with more than 750 million monthly users, it's safe to say it's now a nationwide phenomenon.
Pindoudou is fast becoming a destination for overseas brands, with global brands like Apple and Chanel already on the platform. They also plan to launch a cross-border ecommerce store, which will make it easier for smaller brands to start selling into China.
Xiao Hong Shu (Little Red Book)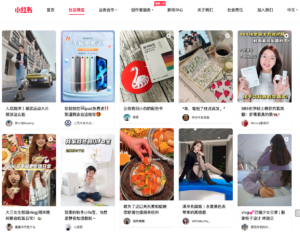 Little Red Book (LRB) combines social media with ecommerce, making it a perfect platform for brands that rely on influencer marketing, such as beauty, fashion and maternity brands.
It was launched in 2013 and now boasts more than 85 million monthly active users, most of which are females under the age of 30. Its focus on lifestyle trends also means the audience skews toward a wealthier segment of the population.
With cross-border ecommerce functionality, LRB is perfect for overseas brands operating in the beauty, fashion, lifestyle, maternity and even premium food and beverage industries.
Read more about LRB's social media functionality in our article on the top 5 Chinese social media sites.
Conclusion
There you have it – our five favourite Chinese marketplaces to help get your products into the hands of Chinese consumers. Each market has a lot to offer, and they are quickly becoming the top choice for brands looking to sell online in China. With the Chinese market booming, now is the time to get started. If you have any questions about ecommerce in China or would like help setting up your online presence, please don't hesitate to reach out to our team.